Your Team Should Not Be Exhausted and Under-Performing on the Road
Your team needs to be aligned around the six energy habits of an elite road warrior.
Workshops take place over two days. Block off this time and let's make it happen.
Learn and leave with an actionable road plan for everyone.
How will your team benefit from a Private Workshop?
If each person on your team is tired and inconsistent on their productivity, you're losing results and eventually your people.
An Elite Road Warrior Private Workshop aligns your business travelers and sets them up for success every business trip.
Here's how it works: Our team will come to your company and lead a customized workshop for your team. During the workshop, everyone will learn a repeatable framework that can be used as a foundation to develop strong road habits.
The Most Commonly Asked Questions
About the Elite Road Warrior Private Workshop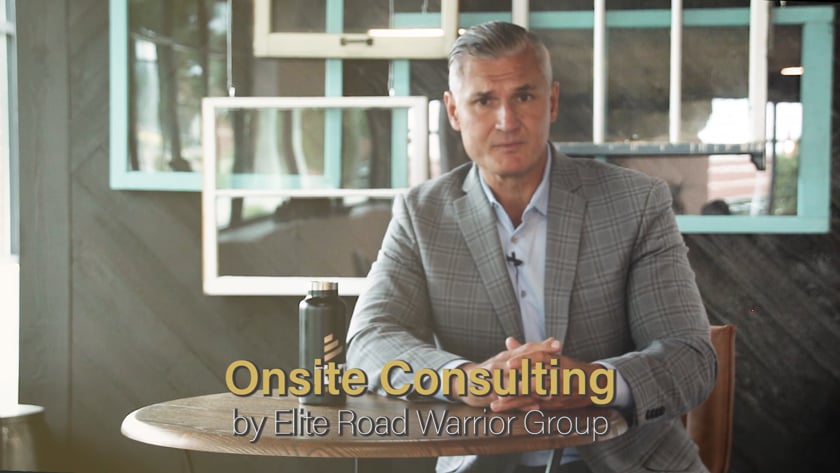 Companies who want to improve their business travelers results on a consistent basis and value employee development.
 
Teams who prefer consultation and training done in a location of their choice.
 
They're looking for a business travel performance expert to come to them to analyze and strengthen their business travel strategy and culture that is catered specifically to them.
There are three elements to the experience:
1. Leadership Session - We help anyone who influences business travel results to be on the same page. We go deep into analyzing what's working, what's not working, and how to make the changes to get the consistent results you deserve. The ultimate goal is creating your business travel strategy and and defining your culture.
2. Large Group Overview Session - "How to Master the Business Travel Life Without Losing What Matters" - Leadership and/or business travelers attend this session to get a complete overview of the three focus areas and six energy habits framework of Elite Road Warrior.
3. Business Traveler Live Workshop - this is a 1 1/2 day workshop onsite (where)
• We dive deep into each of the part of the six energy habits framework 
• Each participant will also have a Reflection / Brainstorm time then group discussion with the corresponding energy habit to learn from each other
• Each participant will create an individualized Elite Road Warrior Roadmap every business traveler can implement on their next business trip
You can choose all three parts of the experience or go ala carte.
Here are a couple of examples:
1. We come to you and handle all three elements of the Leadership Session, Large Group Session, and the Business Traveler Workshop.
2. In instances where your business travelers rarely or never gather in one location onsite, we could come onsite to you for the leadership consulting then you could send your business travelers to the Live Workshop in Chicago when it fits with their work travel schedule.
Don't worry about the details now. We can work with you to create the results you want in the way you want in our 1st 30-minute call.
And of course, we can talk about creating a unique experience for you as well.
Booking 6-8 weeks in advance is the most common but some want to book further out due to logistics of bringing business travelers in. Others are on a quick turnaround and take the next available opening.
 
This often depends on how regularly your business travel team meets all in one location. Sometimes we join those already scheduled time frames or other times this becomes the reason everyone gets together in one location.
 
The length is 2 days on average if you choose the onsite leadership session and private business traveler workshop or one day if you choose the onsite leadership consulting and overview session.
The number is completely up to you. There is no minimum or maximum.
 
For the leadership session, we recommend anyone who influences business travel results and this number is usually smaller.
 
For the large group session, we recommend leadership and all business travelers if that option is chosen.
 
More importantly is putting the right people in the room for a focused period of time to maximize results.
he options are endless and could be anywhere in the world - from board rooms on site to beautiful locations off site.
 
HQ is often the easiest and least expensive but sometimes getting everyone to a neutral site with amenities takes the event to a whole different level. Often, the neutral site is best for the leadership consulting part of the program.
 
Essential is a comfortable place to learn that is distraction-free of the normal daily work grind and commitments.
It depends. 
 
Prices vary between how many of the three elements you choose for your onsite consulting package and the length of consulting it may require to see the results you're desiring long-term.
 
After a few discussions together, we'll be able to determine what is best for you then offer a prompt, detailed proposal for your review and approval. 
Your company deserves results, consistent results from a clear business travel strategy and has a healthy business travel culture who takes care of your people.
 
Your company deserves to decrease costs, retain current talent, and attract top talent.
 
You need business travelers who are no longer burning out but exceeding results.
 
If you invest into them personally, they'll invest into you professionally and in big ways.
 
Allowing Elite Road Warrior Group to come to you to spend time with your leadership and road warriors will be a game changer for your company.
 
Just imagine having a business traveler team who is more productive, engaged, and full of energy.
 
It's possible and we can make that happen.
 
Reach out to us today to begin this process.
 
Apply For On-Site Consulting